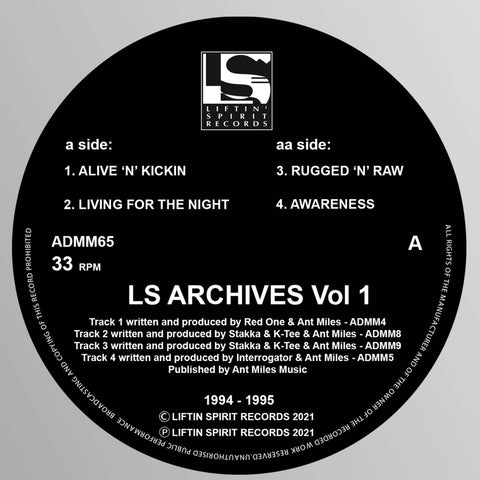 RELEASE
Various Artists - LS Archives Vol 1 (1194/1995)
LABEL:
Liftin Spirit Records
 The original sister label to Ram Records from the old Ram HQ studio in Essex, Liftin Spirit Records now celebrates it's 25th year with a special 'RELOADED' limited vinyl series of remastered classics, alongside rare and previously unreleased tracks since the beginning in1992.
DATs from artists such as Andy C, Ant Miles, Shimon, Joint Venture, Interrogator and Red One have been located in the archives. Also from the Ram & Liftin HQ came tracks for the Deep Seven label in 1993 and all these rare DAT masters have been located and now re-cut by Simon, the original Ram & Liftin vinyl masterer at 'The Exchange'. Initially, Deep Seven remasters will present on a printed white label and unreleased tracks will have a black label.
Alive 'N' Kickin: Red One (Scott Bourne) was a friend of Andy C's who actually went on to manage Ram Records in its latter years. Having an open door policy to the studio back in the early 90's, Ant Miles invited Scott to bring some samples and ideas over and helped him to create two tracks. Both ended up as the fourth release on Liftin Spirit Records in 1994. Now morphing into the Jungle / Drum and Bass genre and moving away from the older Hardcore sound, this Amen tear out featured vocals from Val Kilmer's 'The Doors' movie. It was tough to follow the previous successes of the previous release on Liftin Spirit, 'Cold Fresh Air' , but the more musical soundscape layers were starting to cement the Liftin Spirit sound of which it became renowned. A smasher for the record box of the era that was hammered by Andy C.
Living For The Night: Two lads Shaun and Kier from Brighton, Sussex, sent in some demos to Ant on cassette which greatly impressed him back in 1994. He immediately invited 'Stakka & K-Tee' over and helped them to finish off their ideas in the studio. 'Living for the Night' was actually the second release from them on the label and again showed off their editing skills with precision tooled drum breaks and thunderous bass lines. Rugged and Raw: Stakka & K-Tee were by now regular visitors to the studio and this track was their final release on Liftin Spirit before venturing out on their own. A favorite of Ant Miles and championed once again by Andy C, this track tore up dance floors all over the globe, eventually being remixed by 'Splash' of 'Babylon' fame.
Awareness: This release from The Interrogator was a collaboration with Ant Miles that followed on from Red One's release in 1994. The energy in the studio inspired DJ Interrogator to venture onto the 'Sudden Def' label as DJ Inter.
Vinyl, 12", EP, Reissue
Add to cart