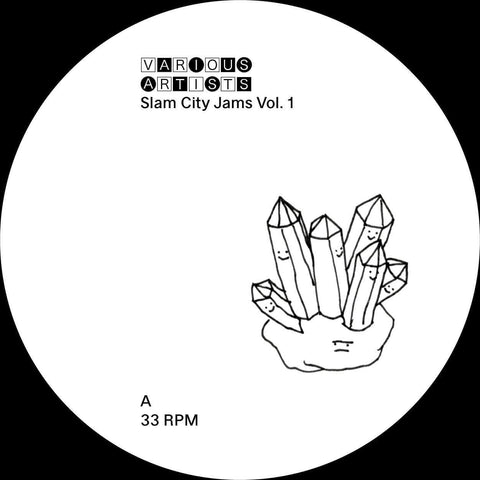 RELEASE
Various - 'Slam City Jams Vol 1' Vinyl
LABEL:
Slam City Jams
WAREHOUSE FIND

Slam City Jams are back with their first compilation. A 4-tracker packed up with five amazing artists from all over the globe. And let's face it: It's a breaky affair!
Starting off with our Munich homeboys from COEO. Known for their funked up house tunes on Toy Tonics, they start into complete new realms this time. 'Never Going Home' is the perfect example of a dope broken beat electro tune, that with it's weird synth line & smooth breakdown never failed on a gig in the last months.
On A2 the man Doppelate from London (Let's Go Swimming Rec.) exactly hits the spot with mezmerizing synths, tight drum programming and a crunchy acid bassline on 'Four Feet Up The Stairs'.
The flip side starts off with label head honchos Rhode & Brown, who teamed up with their buddy Leo Woelfel from Austria, both known for releases on Toy Tonics, Public Possession or Let's Play House.
Here the name 'More Drama (Less Hysteria)' says it all: Pure drama on this breaky acid tune! To round up this great package we've got Marco Lazovic from Moscow on B2. He digs deep 'In The Jungle' with rolling 707 drums, dreamy synths and this tropical atmosphere we can't get enough of.
Add to cart