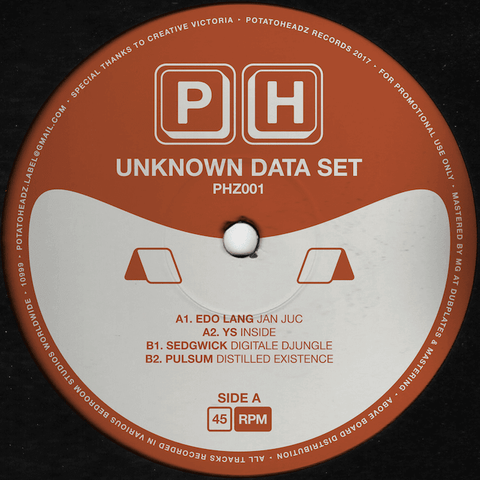 RELEASE
Various - Unknown Data Set
LABEL:
Potatoheadz
Media Condition: Mint
Sleeve Condition: Mint
The unlikelihood of being alive warrants expression. In the increasingly digital universe we are tangibly intertwined yet phenomenally disconnected. This creation of soundscapes defines dream-like iterations of a post-Internet reality and is uncanny in its ability to quintessentially emulate potential futuristic states of being. It induces the uniqueness and highly emotive aspects of undefined existences. It is raw and purposeful. Potatoheadz is a Melbourne/Berlin based, DIY label created by Nipuna Jayasekera, Leon Wan & Sam Sedgwick. It is dedicated to the dispersion of local and international music focused on innovative artistry. "Unknown Data Set" is their first record and third release featuring the music of various artists. 400 copies!
Add to cart