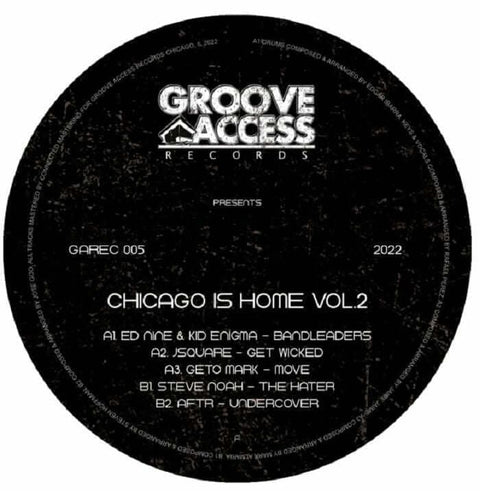 RELEASE
Various - 'Chicago Is Home Vol 2' Vinyl
LABEL:
Groove Access
PRE-ORDER ITEM
Expected in stock between 11th - 25th November 
PLEASE ORDER PRE-ORDER ITEMS SEPARATELY FROM IN STOCK ITEMS IF YOU WOULD LIKE TO AVOID DELAYS TO YOUR ORDER/S
It's coming home, it's coming home - house music is coming home! A second instalment of the Groove Access: series Chicago Is Home offers us five fresh tracks from the windy city landing in a glorious cavalcade of razor edged snares and hypnotic jack house. Ed Nine & Kid Enigma's 'Bandleaders' opens side one in spectacular fashion with spoken mantras lying deep in the mix, distinctive phasing arpeggios, poking keyboard riffs and ringing cymbals. JSquare's 'Get Wicked' kicks with even more power, tribal rhythms bouncing of bleepy melodies, before 'Move' by Geto Mark rounds off the side with the strutting, beautifully brutal 'Move', a proper 3AM peak time pleaser. Steve Noah's 'The Hater' opens side two, a wily acid line worming its way across a raw, stripped down backing before exploding into serious gnarliness when you least expect it. AFTR's 'Undercover' rounds things off with another knuckle duster of a tune, leaving no doubt that Chicago is still the place to be when it comes to house.
Add to cart