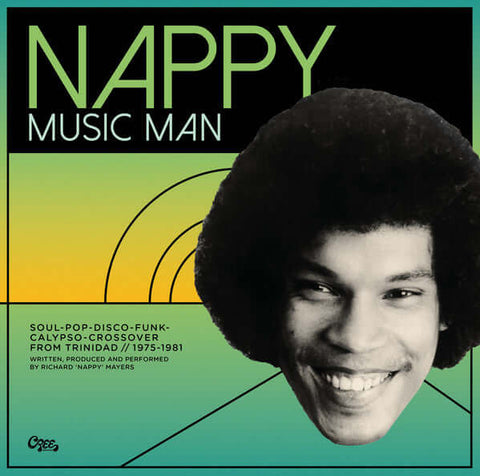 RELEASE
Various ‎- Nappy Music Man
LABEL:
Cree Records
Media Condition: Near Mint
Sleeve Condition: Near Mint
It has been said that Richard 'Nappy' Mayers (1951-1993), the copiously gifted musician, composer, arranger, producer and singer began his earthly sojourn in an era inappropriate for the fullest exploitation of his creative potential.

From his teenage years he exhibited an innate impulse to craft melodies that were distinctive and enticing yet reflecting his attraction to the dominant influences of the period particularly American, Jamaican and homeland Trinidad and Tobago. Charismatic and a natural leader, Nappy's enduring passion for creating, performing and producing singularly progressive music so fired initial band members comprising relatives and close friends, that their loyalty and willingness to co-create with him proved key to its extensive popularity.

From teenaged music-makers styled 'The Tornadoes,' his group evolved through several personnel shifts into 'Embryo' to enjoy their most productive and successful phase from the early 70's to 1980 as a trailblazing recording and stage performance outfit.

Nappy's ever-fertile mind originated a continuous stream of unique creations with lyrical content ranging from his 1975 premier release 'Cash In Calypso/Breakaway' through the 1977 all-time best seller Wanna Make Love To You with sultry frontline songstress Nadie La Fond, down to his bittersweet plea in 1991's Bring Back The Ole Time Days.

After he was so unexpectedly taken from us in 1993, it was beyond doubt that Trinidad and Tobago and the world of popular music he too briefly inhabited had lost a phenomenal talent in Richard 'Nappy' Mayers.

The main focus of this compilation is layed on Nappy's early recording years with his own band Embryo and on artist such like Nadie La Fond, Felix Ceasar or Colin Lucas.
Add to cart