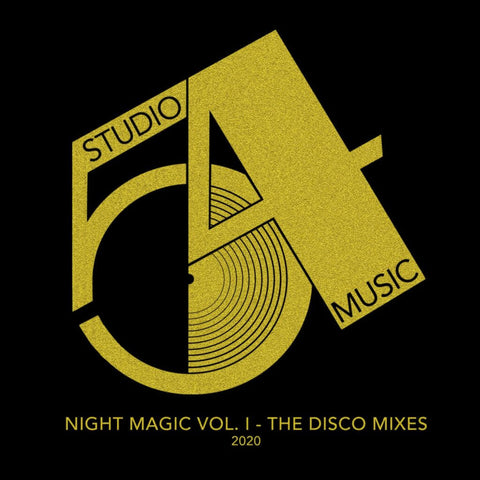 RELEASE
Various - Night Magic Vol. I - The Disco Mixes 2020
LABEL:
Studio 54 Music
Media Condition: Near Mint
Sleeve Condition: Very Good +
Experience the magical disco grooves of Studio 54's exclusive vinyl release, Night Magic Volume I – The Disco Mixes, on limited edition of 500, glittery gold vinyl. This record is a special edition of the labels debut release, Night Magic Vol. I, featuring a vinyl exclusive extended mix of 'Souvenirs' produced by JKriv and Morgan Wiley.
The iconic, era-defining disco hallmark is proud to present the launch of Studio 54 Music and its debut release Night Magic Vol.I., now available on all digital streaming platforms, along with limited edition vinyl in Mid-October, 2020. The record label's vibe will align with the famous nightclub's mischievous party antics and quality music experience that was attended by celebrities like Andy Warhol, Michael Jackson, Bianca Jagger, Calvin Klein, and Diana Ross.
The NYC label's mission is to release dance floor anthems that represent how disco is being modernized, while still celebrating and paying homage to the original sounds of the famed nightclub. The releases will appeal to the next generation of music lovers; experimenting with fusing the genre with all things pop, hip-hop, house music, indie, and electronica that target today's diversearray of club-goers, the underground dance music community, and original Studio 54 disco fans.
The label's first release, Night Magic Vol. I is a four-track compilation EP of disco anthems from the club's prime days, reimagined into fresh 2020 versions by an ensemble of respected musicians from both the original scene and today's dance music world. Notable musicians on the EP include former Tower of Power lead singer Tom Bowes giving his powerful voice on "At Midnight"; frontwoman of disco/house outfit Escort, Nicki B, gives range and slick vocals on "Got To Have Lovin"; Music Director of the smash-hit Broadway show Hamilton; Jonny Dinklage, gives stabbing disco strings throughout the EP, especially on "Lovin' Is Really My Game" which also features diva vocals by rising funk, soul and R&B star Adeline; "Souvenirs" then closes the EP with a beautiful upbeat ballad that features hustling funk singer RickExpress. In mid August, the label plans to release extended club mixes of select tracks for DJs and dance music lovers alike.
The project was led by producer JKriv, current member of Escort, a former member of world touring house/nu-jazz band Tortured Soul, and label boss of the internationally respected disco-edits label, Razor-N-Tape. Essential keys, synths, and the overall project co-production is by Morgan Wiley, known for his work with DFA Records and LCD Soundsystem; Hercules & Love Affair; and disco band Midnight Magic.
Add to cart