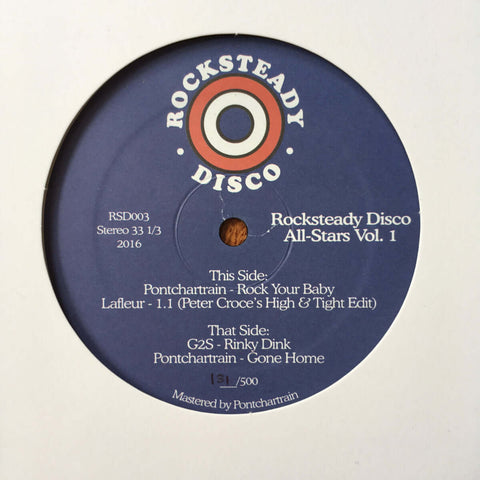 RELEASE
Various - Rocksteady Disco All-Stars Vol 1
LABEL:
Rocksteady Disco
Media Condition: Very Good +
Sleeve Condition: Generic
 Hot off a couple of 12' from Topher Horn, Rocksteady Disco follows up with its first compilation featuring a heap of heavily sampled originals from more well-known editors. Pontchartrain leads the release off with a summer-inspired aural prozac number, just in time for this June release. Next up is notorious Detroit editor Lafleur, busting out this original milky-smooth Detroit boogie house production. A slight little rearrangement from Rocksteady Disco label boss Peter Croce makes this one a bit smoother for the DJs. Lyon, France's G2S kicks off the flip with a big-bottomed stomper reminiscent of some MCDE 'Raw Cuts'. Pontchartrain book-ends this release with a track that puts the 'rocksteady' in Rocksteady Disco, with heavy analog-meets-electro drum programming and complete with Pontchartrain on vocoder duties.
Add to cart