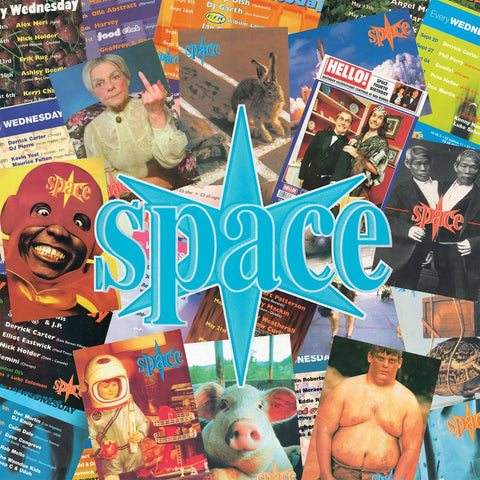 RELEASE
Various - Space Part 2
LABEL:
Above Board Projects
PRE-ORDER ITEM
Expected in stock between 7th - 21st April
PLEASE ORDER PRE-ORDER ITEMS SEPARATELY FROM IN STOCK ITEMS IF YOU WOULD LIKE TO AVOID DELAYS TO YOUR ORDER/S
A tribute to the late Kenny Hawkes, London's dark lord of house music. Lovingly selected and curated by Luke Solomon, Jonny Rock and Leon Oakey.
Running from 1995 to 2002, 'Space' was a Wednesday night founded by Kenny Hawkes and Luke Solomon. It inhabited the underground world of Bar Rumba right in the heart of London's West End and took place each and every week. Kenny and Luke had both been regular fixtures on infamous London Pirate Radio station 'Girls FM', and were seeking a suitable place to play the kind of music they supported on their respective radio shows. They were presented with a weekly opportunity at Bar Rumba and snapped it up.
'Space' was THE place for 7 solid years, hosting local and international guests from the house music community week in week out, to 200+ hardcore and dedicated followers. Regular guest bookings read like a 'who's who' of the music scene with sets from Derrick Carter, Andrew Weatherall, DJ Harvey, Tom Middleton, A Man Called Adam, Ralph Lawson and Huggy, Harri and Domenic, Francois Kevorkian, Salt City Orchestra, Carl Cox, Chez Damier and Ron Trent.... the list goes on and on and on! Music from seminal record labels such as Classic, Prescription, Cajual, Paper, Relief was played on rotation amongst a killer mix of Disco classics, alternative 80s music, left-field B-sides and techno. The night undeniably became a cauldron of amazing music and midweek hedonistic chaos.
As Soho changed beyond recognition and clubbing moved Eastwards, Kenny and Luke decided to call it a day. Sadly, Kenny Hawkes died in 2011, leaving a huge hole in the dance music community. Kenny was a legendary figure with an unmistakable sound and DJ style, he had a warped sense of humour and a huge personality and he continues to be dearly missed by all to this day.
As a tribute to Kenny, his musical partner in crime Luke Solomon alongside 'Space' regular and DJ / Editor supreme Jonny Rock, and former Classic Records label boss Leon Oakey have joined forces to celebrate his life through music. 3 years of tweaking, pooling music and clearing tracks have culminated in 2 very special double albums and a digital compilation. A collection of 'Space' classics, underground jams and the tracks that shook the Shaftesbury Avenue dance floor, shaping one of London's most revered midweek sessions.
All profits from the compilation will be donated to the British Liver Trust.
Add to cart