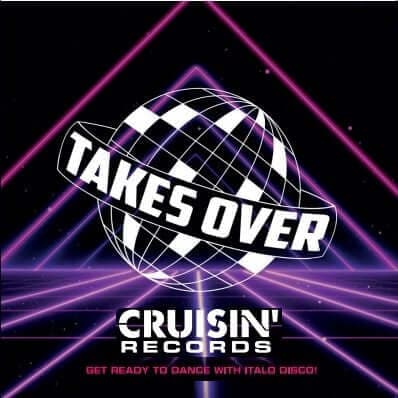 RELEASE
Various - Takes Over
LABEL:
Best Record
PRE-ORDER ITEM
Expected in stock between 12th - 26th May
PLEASE ORDER PRE-ORDER ITEMS SEPARATELY FROM IN STOCK ITEMS IF YOU WOULD LIKE TO AVOID DELAYS TO YOUR ORDER/S
Cruisin' Records presents an exciting compilation containing six full-length extended versions of summer-ish Italo-Disco tracks, selected from its vast catalog to commemorate in advance its 40th anniversary (1983-2023). "Takes Over" is compiled by Nello Jay, remastered by Dom Scuteri and produced by BEST Record. Some epic Cruisin' hits right here of which most are released in 1985. Up beat tracks that havent had the same amount of shine as some of the well known hits. These tracks might be unexplored, but exactly for this reason considered more engaging and intriguing whetting the appetite of followers and lovers of true and genuine Italo-Disco. The compilation could only begin and end with one of the most representative artists of Cruisin': Max-Him, whose most loved creatures are the sensational "Japanese Girl", where the sublime melody and the vocal skills of Massimo Vaccari stand out, and "Lady Fantasy" in the amazing remix version. The sound is powerful and the rhythm is always supported by the choral and structured "For Your Sweet Information" by the fantastic P.J. Marcus, stage name of the singer-saxophonist James Thompson. Then, we have the pleasant surprise that comes out of Ennio Manuel's magic top hat: Roxana, sublime interpreter of a danceable piece "In Your Eyes", whose melodic text... Je t'aime mon amour, I love you , Ich hab dich gern... were very popular in gay clubs all over Europe. "Heigh Ho" is a simple and catchy theme with a great arrangement. The piece sung by Fabian Nesti has such power that even today you never get tired of listening and dancing. Another exceptional piece of pure electricity is "I Need Your Love" where the male and female voices of the Midnight Passion marry perfectly in this masterpiece of great energy. 6 rare and obscure tracks for all Italo aficionados.
Add to cart