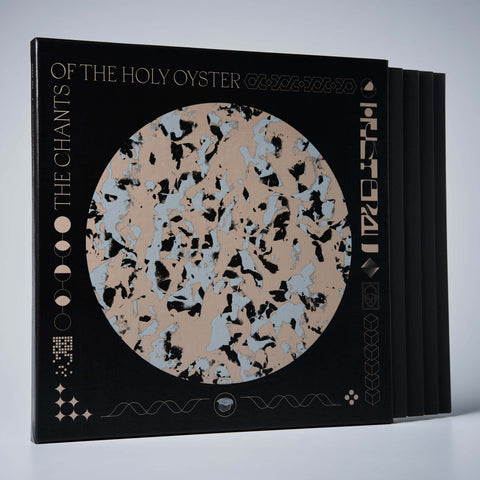 RELEASE
Various - The Chants Of The Holy Oyster
LABEL:
Kalahari Oyster Cult
PRE-ORDER ITEM
Expected in stock between 5th - 19th May
PLEASE ORDER PRE-ORDER ITEMS SEPARATELY FROM IN STOCK ITEMS IF YOU WOULD LIKE TO AVOID DELAYS TO YOUR ORDER/S
Six years, more than fifty releases, countless artists and multiple subsidiaries; the Oyster Cult's reach extends far beyond what sceptics once thought possible. It's only fitting, then, that we gather some of our finest under the Kalahari banner in celebration.

The anniversary release is upon us. Six whole years since Jacy helped inaugurate the label with a spin on Midwestern house, OYSTER40 signals a landmark occasion. 18 tracks, quadruple vinyl boxset action, and in true Oyster Cult tradition, it comes bearing pearls. 

Dancefloor squarely in focus, the Cult assembles on a compilation spanning alumni and new inductees alike. It's an assemblage of the fractal, explorative and ritual-ready; at once a focused distillation of the Kalahari sound and celebration of its many acolytes. Big on atmosphere, heavy on groove, we delve deeply into the musical DNA shared by all who grace the label. 

Tough, direct cuts (Sansibar, Roza Terenzi, Big Zen, Maara & Priori) to the pristine and widescreen (S.O.N.S., Volodymyr Gnatenko, Adam Pits), this is all quintessentially Kalahari. Elsewhere though, the likes of D. Tiffany and SW. journey further into realms of abstraction: the former opting for hi-tech, dreamstate IDM, while the SUED co-founder dissolves a house template into dubby introspection.

Calling upon contemporary talents for the most part, there are also exceptions. Raymond Castoldi - the one-time house producer best known as Madison Square Garden's music director - returns with an unreleased nugget from '91, while an 'Aliens'-sampling track from Detroit-indebted techno outfit Syzygy gets the reissue treatment. 
Tracklist
A1 - S.O.N.S - & Go Dam - Force Of Will A2 - Volodymyr Gnatenko - Subra B1 - RDS - & Eversines - Plooooooink B2 - Ray Castoldi - 1991 B3 - Maara - & Priori - C'mon C1 - Big Zen - Really Bad Habit C2 - Furious Frank - Red Herring D1 - Sansibar - Between Two Circles D2 - Roza Terenzi - Beat Pig E1 - Adam Pits - Spreadable E2 - Sound Mercenary - Float Downstream F1 - Syzygy - Can I Dream? F2 - Sohrab - Silk Road G1 - D. Tiffany - Ghost Filter G2 - Maara - Floating In The Swamp H1 - Oma Totem - sardana sardana H2 - SW. - biXsiXstreetliCKs H3 - Eversines - Onigi (Ambient Version)
Add to cart