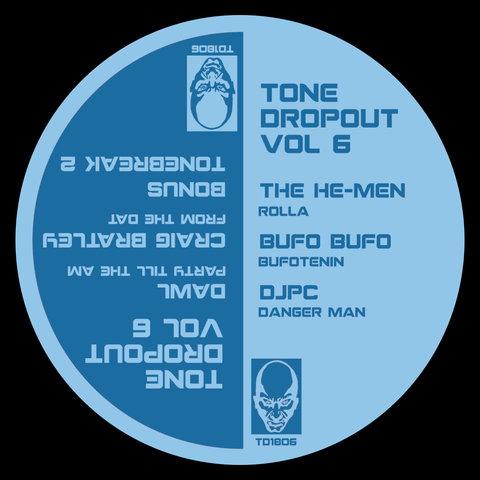 RELEASE
Various - ToneDropOut Vol. 6
LABEL:
Tone Dropout
So here it is vol 6, with 6 trax, yes 6 trax, hows that for value for money. Track 1 , kicks off the e.p with a monkey infused acid rolla from The He-Men ,aptly named Rolla, really deep acid rolling track for you head nodders out there , then track 2 comes courtesy of new family member Bufo Bufo, who already boasts releases on ritual poison and EGD, his track is a real four/four breakbeat extravaganza, moves along lovely with breaks and bleeps, very excited about this track and a very please to have him in the TDO family.
DJPC returns with track 3, his track called danger man, and believe this is dangerous, proper old school sounding warehouse rave with wicked pianos and baselines .good to have him back.
Then flip over and boom side B, hits ya with Dawl track party till the A.M , great advice and a great track from Dawl, back to his proper full on rave breaks and bleeps to kick off side B the way only he can. Then track 2 we welcome another new member to the TDO family, although he has mastered several e.p's and digi trax for us , this is the first track Craig Bratley has ever made for us, over the moon to have this man on board - Craig has earned a solid reputation from a series of curiously erratic releases, releasing records across the spectrum of electronic music on labels such as Futureboogie, Suara, Throne Of Blood, Bird Scarer, Tsuba, Instruments Of Rapture, Claremont 56, Leng, To Rack And Ruin and Is It Balearic and as well as his own Magic Feet imprint.
The recent discovery of a box of old DAT tapes in a house move has allowed Craig to revisit some of his earlier attempts at making music in the 90's. The re-sampling and editing one of these tracks has provided the basis for Craig's contribution to Tone Dropout Volume 6, 'Back From the DAT'. From the DAT really is a hats off tip to the rave generation, thank you craig proper got this right for our label.
Then finally track 6 , is bonus track , Tones Breaks part 2, a full on pow in ya face rave banger, a little feature we will be doing now on e.p's a nod to the legendary bones breaks of course.
Vinyl, 12", EP, Compilation
Add to cart