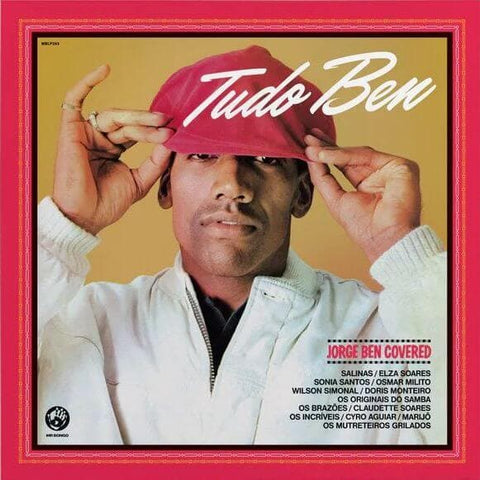 RELEASE
Various - Tudo Ben (Jorge Ben Covered)
LABEL:
Mr Bongo
PRE-ORDER ITEM
Expected in stock between 24th March - 7th April
PLEASE ORDER PRE-ORDER ITEMS SEPARATELY FROM IN STOCK ITEMS IF YOU WOULD LIKE TO AVOID DELAYS TO YOUR ORDER/S
Jorge Ben is surely one of the world's greatest all-round musical artists.
He is internationally renowned and vastly infuential as a vocalist, musician, performer and phenomenal songwriter. Famed for penning 'Taj Mahal', which was the source for Rod Stewart's 'Do You Think I'm Sexy?', and also 'Mas Que Nada', one of Brazil's most iconic anthems, Jorge Ben is a powerful musical force. A simple glance at his impressive back catalogue reveals a master of his craft, with a depth and quality that is seldom paralleled.
For 'Tudo Ben' we take a side-step, focusing on Jorge Ben's songs that have been performed by other artists. Complied by Mr Bongo, Greg Caz and Sean Marquand, this collection features the Brazilian legends Elza Soares, Claudette Soares, and Wilson Simonal, alongside prodigious artists such as Marijô, Os Brazoes, and Doris Monteiro to name but a few. The selection covers a wide range of genres including samba, bossa nova, MPB and batacuda workouts. Many of the songs featured have become staples in Mr Bongo DJ sets over the years and are some of our most loved classics. As with many of history's great songwriters, Jorge Ben's songs transcend genres and styles, they can be covered and reinterpreted, yet the quality of the writing holds up to the standard of the original.
In the dark days of the mid to late 2000s when the end of vinyl seemed inevitable, Mr Bongo released 'Tudo Ben' on CD only. Years later, we fnally get to put this right and present it for the frst time on vinyl with alternative artwork by Mr Krum.
Add to cart