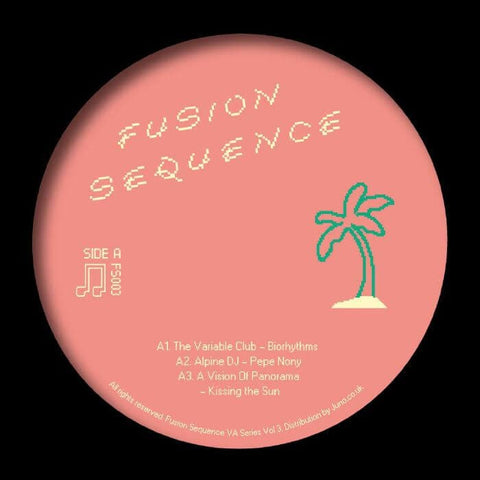 RELEASE
Various - Various 3 (FS 003)
LABEL:
Fusion Sequence
PRE-ORDER ITEM
Expected in stock between 16th - 30th June
PLEASE ORDER PRE-ORDER ITEMS SEPARATELY FROM IN STOCK ITEMS IF YOU WOULD LIKE TO AVOID DELAYS TO YOUR ORDER/S
There is a wealth of talent on show on the third EP from the Fusion Sequence label which has put together this six-track deep house sizzler. The Variable Club' 'Biorhythms' is perfectly warm and dynamic for cosy backroom moments and Alpine DJ then brings an old school piano feel to 'Pepe Nony' before A Vision Of Panorama zones you out on lush chords and reverential keys on 'Kissing The Sun.' The flipside offers the more dark and heads-down 'Many Stories' while the blissed-out and feel-good grooves return with Common Mode's 'Bassface.' Body Corp shuts down with the slower, seductive sounds of 'Take It Or Leave It' which rounds out a top-class EP.
Add to cart