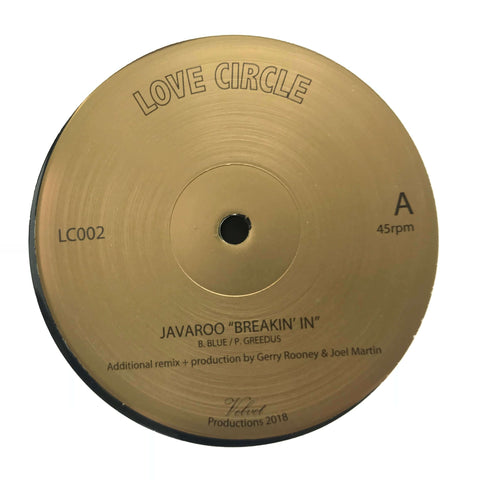 RELEASE
Javaroo & Marti Caine - Breakin In
LABEL:
Love Circle
Velvet Season & The Hearts of Gold present the feel-good blue-eyed Disco anthem of the summer!
This official 12"" version of Javaroo's super rare 'Breakin' In', has been seductively reconstructed into a sizzling string-laden magnum opus by Gerry Rooney & Joel Martin. The song's infectious uplifting power is undoubtedly due the high quality of musicianship featured on this vintage Barry Blue production, aided by legendary Quincy Jones collaborator Rod Temperton (Heatwave) and a wealth of top British Jazz session players (John Cameron, Clem Cattini, Mike Moran etc). 'Breakin' In' is a nightclub groover complete with catchy sing-along chorus and luxurious love -unlimited harmonies to keep the dance-floor rocking and the crowd squealing for more! This is the soundtrack to a private erotic soiree at 'Tramp' circa 1980, where vintage prowlers Joan Collins and Sue Lloyd hunt for the stroke of a Stud only a Bitch can handle - Satisfaction guaranteed in the Sanctuary of lust!
On the flipside another heavyweight Barry Blue production from 1981, Marti Caine's sublime sleaze-time soul stepper 'Love The Way You Love Me', receives the full VS & the HOG treatment. Clocking in at over 9 scintillating minutes of extended aural delight, the Velvet Season & The Hearts of Gold version has transformed the original LP track into a lavish, expansive, Bass enriched 12" Dub behemoth via their subtle delay and reverb techniques which enrich the song's hypnotic flow with entrancing synergy towards its euphoric climax!
Taken from Marti's highly collectable BBC album 'Point of View', which showcased her famous passion for Soul Music, 'Love The Way You Love Me' proudly stands with similar classics by the likes of more recognisable Soulful divas such as Jean Carn, Stephanie Mills and Barbara Streisand. 'Love The Way You Love Me' has all the ingredients of a timeless Balearic masterpiece!
Vinyl, 12", EP
Add to cart