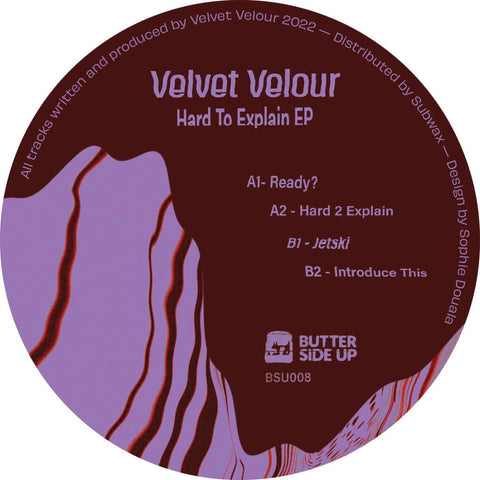 RELEASE
Velvet Velour - Hard To Explain
LABEL:
Butter Side Up
PRE-ORDER ITEM
Expected in stock between 10th - 24th February
PLEASE ORDER PRE-ORDER ITEMS SEPARATELY FROM IN STOCK ITEMS IF YOU WOULD LIKE TO AVOID DELAYS TO YOUR ORDER/S
Velvet Velour is based in Portugal and has made a quick impression in the last two years with music on Welt Discos, Nuances De Suit and Small Hours. His signature sound is a vibrant fusion of catchy hooks and characterful basslines that fuse UKG, breakbeat and house into something fresh. That is the case again here with a mouthwatering mix of stylish, club-ready sounds.
Add to cart