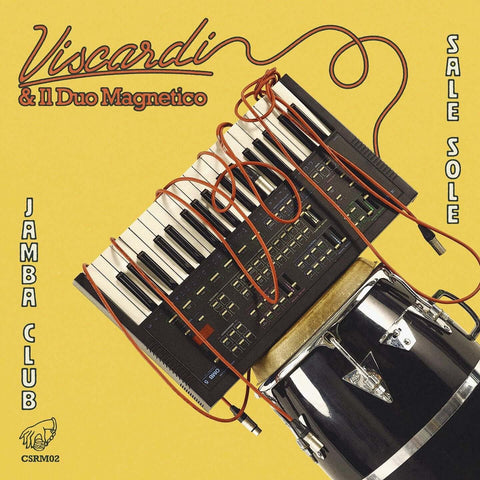 RELEASE
Viscardi & Il Duo Magnetico - Sale Sole
LABEL:
Cosmic Romance
PRE-ORDER ITEM
Expected in stock between 16th - 30th June
PLEASE ORDER PRE-ORDER ITEMS SEPARATELY FROM IN STOCK ITEMS IF YOU WOULD LIKE TO AVOID DELAYS TO YOUR ORDER/S
Viscardi & Il Duo Magnetico is the new collaborative project between italo-swiss DJ, producer and singer Pascal Viscardi, Yavor Lilov and Alain Sandri, respectively drummer and percussionist of the swiss cult band L'Éclair.
The three musicians joined forces in Geneva and worked in the studio for the past two years with Viscardi as the main vocalist, Lilov producing the tracks and playing drums, bass and keys, and Sandri on guitar, percussion, and backing vocals. The result is a unique and contemporary version of italian pop, peppered with new-wave, boogie, disco and world music references.
On Sale Sole Pascal's mellifluous lyrics float on a midtempo boogie groove, projecting visions of sun drenched cities and summer sunsets. On the flip side Jamba Club is a reggae infused slow burner, reminiscent of night encounters and forgotten love stories.
Sale Sole / Jamba Club marks the project's debut release and serves as a sneak peek into the upcoming full-length album, set to release on Cosmic Romance in fall 2023.
Pascal Viscardi : vocals, lyrics & synths
Yavor Lilov : drums, guitars, bass & synths
Alain Sandri : guitars, percussions & backings
Add to cart