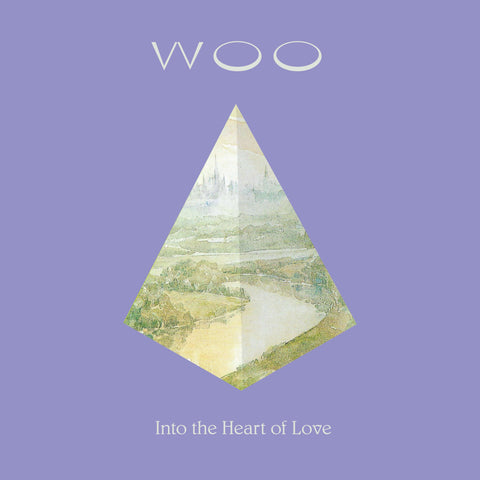 RELEASE
Woo - In The Heart Of Love
LABEL:
Palto Flats
PRE-ORDER ITEM
Expected in stock between 5th - 19th May
PLEASE ORDER PRE-ORDER ITEMS SEPARATELY FROM IN STOCK ITEMS IF YOU WOULD LIKE TO AVOID DELAYS TO YOUR ORDER/S
Absolutely essential. Deluxe 2LP edition of this impeccable album from 1988. The spot glossed Gatefold jacket features artwork including archival photos & drawings from Woo's archives as well as liner notes by Clive Ives.
Issued for the first time in its entirety on vinyl, spread over two LPs, and remastered from newly discovered hi-quality DAT sources, we're thrilled to present the definitive version of Woo's most fully-formed album. A cosmic testament to the healing power of love, utilizing vocoded clarinets, pastoral guitars, homespun folk lullabies, and lilting electronics, coalescing into a an hour plus long journey through their otherworldly soundscapes. A prime entry point to Woo's sound, containing some of their most beloved songs, such as 'Make Me Tea,' 'It's Love,' 'Hopi' and many others, and also including a never-before heard bonus track – the vocal version of 'It's Love.'
Into The Heart Of Love was originally self-released on cassette in 1988, with a wider cassette release in 1990. Compiled from home recordings from the preceding years, and released during a transitional point for the band, the Ives brothers see this album as their most complete work, offering space to the listener to stretch out and immerse themselves into the warmth of their sound.
Woo is the uncategorizable project of Clive and Mark Ives from Brighton, UK. Since the 1970s, the duo have been recording a plethora of eclectic sounds, most falling under the blanket genre of new age, but spiraling out toward notions of ambient sounds, jazz, and other spiritual takes on modern music. They received some acclaim for their early releases, including 1982's Whichever Way You Are Going, You Are Going Wrong and 1989's It's Cosy Inside, but their work began to receive renewed appreciation during the 2010s, when labels such as Drag City and Palto Flats reissued the band's albums. The brothers remained active all the while, digitally self-issuing material.
Add to cart