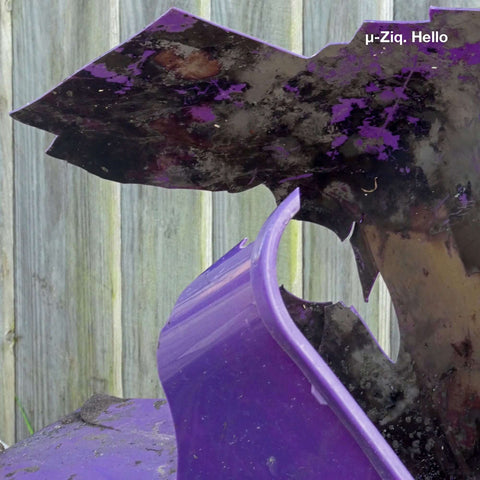 RELEASE
µ-Ziq - 'Hello ' Vinyl
LABEL:
Planet Mu
PRE-ORDER ITEM
Expected in stock between 4th - 18th November
PLEASE ORDER PRE-ORDER ITEMS SEPARATELY FROM IN STOCK ITEMS IF YOU WOULD LIKE TO AVOID DELAYS TO YOUR ORDER/S
Planet Mu owner Mike Paradinas (a.k.a. µ-Ziq) wraps up 2022 with his 3rd release of new material this year. 'Hello' is the mirror image of the 'Goodbye EP'. The intensity is heightened, the breaks more manic and melodies inhabit every corner. The material is the final chapter of the 'Magic Pony Ride' material and even includes another version of that track. 'Iggy's Song' has a slowed down sample of Mike's son screaming, 'Ávila' is an ode to his father's hometown in Spain and 'Green Chaos' even includes a nod to RP Boo. On Side B things get more interesting. 'Pyramidal Mind Dispersion' slows things down while amping up the tension, Modulating Angel is at drum & bass tempo but with a choir of angels from hell in the background, while the final two tracks recall the experimentation and melodies of Lunatic Harness.
TRACKLIST:
A1 - Hello
A2 - Iggy's Song
A3 - Magic Pony Ride (Pt.3)
A4 - Green Chaos
A5 - Ávila
B1 - Pyramidal Mind Dispersion
B2 - Modulating Angel
B3 - Pentagonal Antiprism
B4 - Metabidiminished Icosahedron
Add to cart