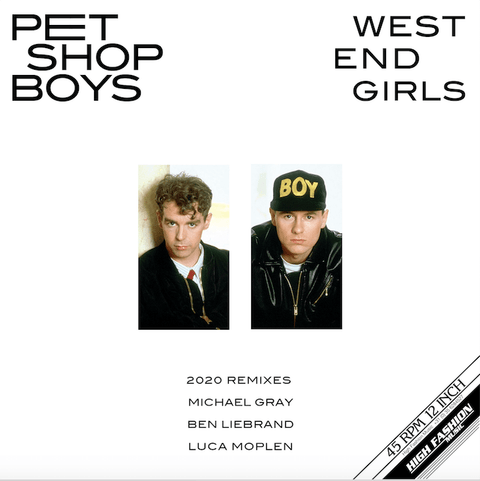 RELEASE
Pet Shop Boys - West End Girls (Remixes)
LABEL:
High Fashion Music
PRE-ORDER ITEM
Expected in stock between 12th - 26th February
PLEASE ORDER PRE-ORDER ITEMS SEPARATELY FROM IN STOCK ITEMS IF YOU WOULD LIKE TO AVOID DELAYS TO YOUR ORDER/S 
Recently voted as "The best British number one from British soil" by the readers of UK newspaper "The Guardian, "West End Girls" by British duo Pet Shop Boys is an all-time synth-pop classic that comes in a 2×12" package with two mixes from legendary Dutch producer remixer Ben Liebrand, a 2020 version from UK house hero Michael Gray, and a new mix by Italian wizard Moplen. The 2 Liebrand mixes offer an acoustic variation on the 80's synth theme, expanding on the luscious string section, providing a canvas for extensive trumpet solos. The result is the 'Ben Liebrand "9 Course Suite". Also provided is the 'Ben Liebrand Nu-Disco Remix' with a more laidback feeling featuring a funky acoustic bass line. Michael Gray adds his classy percussive beats with a more sustained feel letting the melodies take over, yet retaining the PSB charm, whilst multi track guru Moplen stays true to the original Bobby Orlando PSB production. Mastering was done at the famous Abbey Road Studio's in London..
Add to cart